THE JERRY STEFEK MEMORIAL CRAWL FOR THE CURE – ETHERMEET!
…POWERED BY DUNGEON CRAWL CLASSICS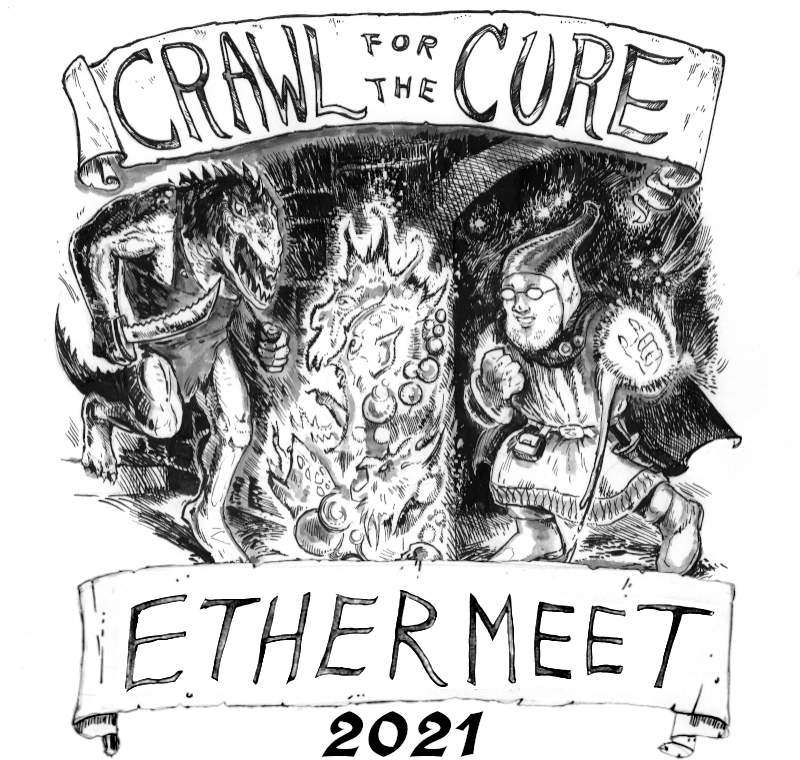 THE 2021 ETHERMEET WAS AN INCREDIBLE SUCCESS! OUR TEAM IS RECOVERING, BUT CALCULATIONS ARE $3,160.23 BETWEEN TILTIFY AND PAYPAL! THANK YOU ALL INVOLVED FOR YOUR SUPPORT! RETURN FOR UPDATES AS WE PROCESS THE RESULTS COMPLETELY!
Unfortunately, due to health issues in the family of one of the organizers, we were unable to run the Crawl at Gamehole Con in 2021. We are planning "play-a-thon" style event on Twitch channel DCC Mayhem to do Good in December 2021 – check this space for details as we get everything planned out. The support was so great last year, we'd like to make this an annual event, regardless! All donations will go to the American Cancer Society and their Good works!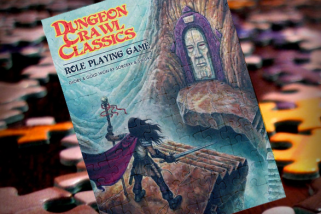 The Jerry Stefek Memorial Crawl for the Cure – Ethermeet is a fun online streaming event benefiting the battle for the treatments and cures for this horrible disease, and providing life-saving information for victims and all individuals need for prevention and coping. Dedicated players and Game Masters will be charged up to entertain and bring the excitement for the viewers to help us draw donations for support of this great cause! Watch our troupe face the dangers of the crawl and be prepared to give our players and judges fun and outright outlandish in-game elements to embolden, hamper or amuse the crowd – the higher you donate, the stranger things get! There will be hourly raffles for your donations from our incredible sponsors!
The sponsor response has been overwhelming, so we have a hoard of donor raffle items to offer for your contributions to the cause! Please consider a holiday click tour through our sponsors' sites for your gift giving needs! Slaver over the following list of glistening riches which will reward your Good Deeds!:
To the highest donor: Troll Lord Games has offered the bounty of a Stephen Chenault signed Castles & Crusades 8th Printing Players Handbook!
To the second highest donor: Troll Lord Games will ship the Castles & Crusades 8th Printing Players Handbook!
Dandyline Games has bolstered the trove with 2 physical copies each of their adolescent misfit mayhem RPG, the Dare-Luck Club (Hardcover!), and their new Mutant Crawl Classics release, Seekers of the Un-K'Nown!
Stiff Whiskers Press has offered paired sets of 5 PDFs of their massive 900+ page Weird Frontiers RPG Rulebook and a set of their WF themed funky dice to lucky donors!
$25 Gift certificates from Frog God Games online store!
Sanctum Secorum has generously joined the fray donating with a hardcover DCC Annual to the raffles!
Studio 9 Games has generously contributed a hoard of Villagers and Villains and the expansion, City Builder, to lucky donors!
Awesome "Gaming Wizards" figures of Gary G and Dave A from MudPuppy Games!
PDFs from Goodman Games, Troll Lord Games, Purple Sorcerer Games, Gamehole Publishing, 2 Old Guys Games, Thick Skull Adventures, Shield of Faith Studios, MudPuppy Games (Scientific Barbarian Issues 1-3 sets!) and issues of the Hobbs and Friends of the OSR zine!
Every donation of $3 or above will receive not only the memorial token for The Jerry Stefek Memorial Crawl for the Cure: Ethermeet 2021 (TBD – the artificers are engaged!), but also the tokens from the 2020 and 2019 Crawls for the Cure (while supplies last), sent straight to your door! Invoke your Doug Kovacs and build your Luck token stash!
ALL donations will receive a Digital Swag Pack from Troll Lord Games including the 7th Printing Players Handbook, Monsters and Treasures 3rd Printing, the Amazing Adventures 5th Ed quickstart rules, character sheets and adventures for both!
ALL donations will receive a code for a free PDF for Perils of the Sunken city from Purple Sorcerer Games!
Note on the Villagers and Villains/City Builders expansion (MSRP around $40): The shipping is out of pocket , so we have to put some limitations on the reward. We're going to award these hourly to the highest donor minimum $15 (to minimally cover the shipping in donations to the ACS – we will happily do so!). We're hoping this spurs some good-hearted competition for this very generous donation from Studio 9 Games! This is in addition to your raffle chance, and does not exclude you from that reward!
Additionally, for anything but the memorial tokens, we cannot afford international shipping, sorry. However, international donors are certainly eligible for the bountiful PDF rewards! Thank you for your understanding!
See the Game Schedule and Donor Raffle page for the full listing of raffle times so you're eligible for your favorite products!
And prepare yourself for an online growl and cheer for your MONSTER DONATIONS greater than $25!
Please join us to Do Good Things in providing funding for this most worthy cause. Thank you!