THE JERRY STEFEK MEMORIAL CRAWL FOR THE CURE!
…POWERED BY DUNGEON CRAWL CLASSICS

In December 2018, the gaming community tragically lost a good friend, Jerry Stefek, to cancer. Jerry was an avid gamer, history buff, re-enactor and father. His love of his friends and hobbies was always evident in his words and actions. Jerry's friends in the Midwest would like to do some Good works in his name and raise money for cancer research and patient assistance… Enter: The Jerry Stefek Memorial Crawl for the Cure!
On Friday, March 27th, 2020 from 8 AM until 6 PM at Gary Con XII, we will be running The Jerry Stefek Memorial Crawl for the Cure 2019: RELOADED! We have many of the collectible token burning to do some Good in your donations! Once again, we'll be running David Baity's awesome adventure The Carnival of the Damned as a 0-level funnel tournament-style to raise the loot; all proceeds going to the American Cancer Society! With eight seats at the table with 0-levels characters, your donation of $3 gives you a collectible pass with new Doug Kovacs original artwork for your admittance into the fun whenever there is a spot at the table… and the Judge will be sure there is a steady flow of souls into the beyond! Become the King or Queen of the Carnival by running your 0-level against the embodiment of Chaos within the Carnival; player's characters with the most survived encounters win one of these awesome prizes: the Goodman Games Foil Egyptian Lich Cover DCC Rulebook, the full collection of Purple Sorcerer Games adventures on PDF, and a signed copy of the The Carnival of the Damned from the author David Baity of Stiff Whiskers Press!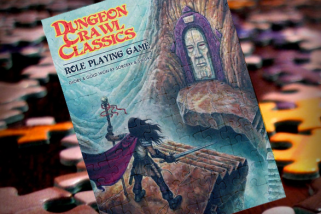 Getting impatient in line? Need a quick fix maybe allowing you to survive the next bloody encounter? Make an offering (donation) to the cause and barter with the Judge to create some havoc or save your bacon! Your charity dollars will become incredible stories for years to come! Have some time in between games? Come on out and help shape the ruin!
The Crawl for the Cure is a fun event benefiting the battle for the treatments and cures for this horrible disease and providing life-saving information for victims and all individuals need for prevention and coping. Please join us to Do Good Things in providing funding for this most worthy cause. Thank you!