THE JERRY STEFEK MEMORIAL CRAWL FOR THE CURE!
…POWERED BY DUNGEON CRAWL CLASSICS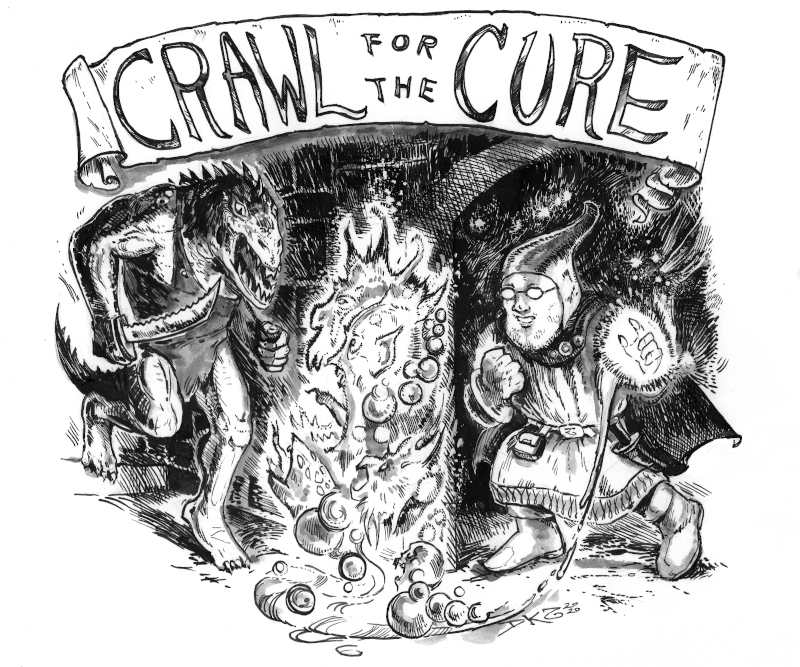 THE CRAWL 2020 HAS COMPLETED WITH GREAT SUCCESS! CHECK OUT THE RESULTS! THANK YOU ALL!
In December 2018, the gaming community tragically lost a good friend, Jerry Stefek, to cancer. Jerry was an avid gamer, history buff, re-enactor and father. His love of his friends and hobbies was always evident in his words and actions. Jerry's friends in the Midwest would like to do some Good works in his name and raise money for cancer research and patient assistance… Enter: The Jerry Stefek Memorial Crawl for the Cure!
Alas, as many of our fellow gamers know in the crisis, Gary Con XII did not come to pass, and The Jerry Stefek Memorial Crawl for the Cure 2019: RELOADED! was cancelled… Do not fret, Crawl fans! The Jerry Stefek Memorial Crawl for the Cure 2020 will return on Saturday, December 12th, 2020! Presented in a "play-a-thon" style format on the Twitch channel DCC Mayhem and your donations can influence the games! All donations will go to the American Cancer Society and their good works!

We have awesome PDF pledges to raffle to donors from Goodman Games, Purple Sorcerer Games, Stiff Whiskers Press, the convention home of the Crawl, Gamehole Con, has pledged some items from Gamehole Publishing, and Troll Lord Games has entered the fray! In fact, all donors at any level get a free DriveThruRPG download code for their Perils of the Sunken City PDF Purple Sorcerer Games! Donate to a great cause and cure that roleplaying sweet tooth at the same time!
All donations over $3 will also receive not only a memorial token of our appreciation commemorating the 2020 Crawl, but also a token for the 2019 Crawl for the Cure! (While supplies last.) Let your Good Karma be your Fleeting Luck!
NEWLY ANNOUNCED! Your $3 donation also gets you the Dark Trails RPG Bootleg PDF for FREE! Stiff Whiskers Press has graciously offered our donors the quick start rules for your contribution! In addition, remember to check out becoming a Dark Trails RPG Late Backer! Giddyup! You have until December 25th, 2020, partner!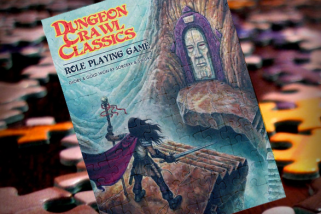 The Jerry Stefek Memorial Crawl for the Cure is a fun event benefiting the battle for the treatments and cures for this horrible disease and providing life-saving information for victims and all individuals need for prevention and coping. Please join us to Do Good Things in providing funding for this most worthy cause. Thank you!